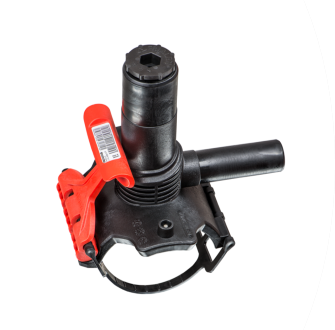 Electrofusion made in Germany
FRIALEN®-SAFETY FITTINGS
Climate changes, occur more and more frequently and they are aggressive. These changes are changing our lifestyle but what has not changed during this period is the proven safety in the most complex applications of the FRIALEN®-SAFETY FITTINGS electrofusion fittings produced by Aliaxis Deutschland GMBH from the highest quality raw material.
Who are we?
Aliaxis is a leader in advanced piping and jointing systems, Aliaxis helps create the safest, most efficient and reliable fluid and energy management solutions that will perform for generations to come. We provide our products, systems and solutions for buildings, infrastructure and industrial projects in EMEA.
Our drinking water in Europe is characterized by the highest quality standards. You, as a regional distribution operator in your region and as a decision maker, help to maintain these high standards. To maintain this high standards for future generations, we need a material that can do more and last longer: Polyethylene (PE).
The 2020 European Drinking Water Directive sets mandatory requirements for every EU member state. Therefore Polyethylene (PE) knows no boundaries when it comes to the a good quality of drinking water.
Did you know:
Using polyethylene (PE) with a nominal diameter of DN100 is about 50% more cost efficient then steel or cast iron?
PE materials are on the way to success for over more then 60 years?
Does the PE100 have a lifespan of about 100 years ?
Is PE100 a 100% recyclable material ?
https://www.aliaxis.de/en/products/productdetails/tapping-tee-red-snap-sdr-11-994932
https://www.aliaxis.de/en/products/productdetails/saddle-with-outlet-spigot-univ-995157
Safe for a lifetime!
We are specialized in the production and joining technology of wear-resistant and hygienically safe polyethylene electrofusion fittings. Under the brand FRIALEN®-SAFETY FITTINGS, we provide durable, robust and safe fittings in terms of both joints and hygiene.
FRIALEN®-SAFETY FITTINGS and the open wire technology.
All fittings produced by Aliaxis Deutschland Gmbh are manufactured using open wire technology embedded in the fitting body.
This technology comes with countless advantages and benefits:
Perfect insertion dept and longer welding zones.
Optimal and direct heat transfer to the pipe to create a uniform connection.
Quick closing of the gap between the fitting and the pipe is ensured.
Shorter welding times, compensation of welding time with ambient temperature.
Maximizing the fusion zone.
There is no oxide layer in the fusion zone.
Considering the recent increase in energy costs, FRIALEN®-SAFETY FITTINGS ensure low energy consumption by efficient use of energy exactly where it is needed.
Visible quality from the start: visual control of the layout of the resistors!
You can contact us to provide you with more details or technical support by accessing the website www.aliaxis.hu or www.aliaxis.ro
---
By accessing the link below you will find an article published into the magazine Water Leak Detectives.
Original romanian source: ELECTROFUZIUNE MADE IN GERMANY – Detectivii Apei Pierdute