The PE shut-off valve FRIALOC
As a global industry leader in advanced plastic piping systems, we specialise in jointing technology made of wear-resistant and hygienically reliable polyethylene. Under the brand name FRIATEC, we present the innovative PE shut-off valve FRIALOC for use in water distribution - applicable for plastic pipelines in water supply.
Better to go for the original: FRIALOC
If you want to be on the safe side when it comes to water supply, it's better to opt for the original from the industry leader: With the PE shut-off valve FRIALOC from the FRIALEN product line, your pipelines form a completely fused and homogeneous unit without material transitions, seals or mechanical connections. Corrosion and incrustation are now a thing of the past, as are dead spaces and water stagnation.
Advantages: flexible to use, easy to operate
Thanks to the innovative, plastic-compatible two-flap shut-off mechanism, FRIALOC adapts flexibly to all operating conditions and enables shut-off without much effort, just a few turns from the road cap. Embedded in a valve cross, FRIALOC can also be integrated into existing pipe networks made of other materials: As a "bridge to the premium material PE", the mechanical pipe connector FRIAGRIP creates the technical prerequisites for the transition from other materials such as PVC, steel, cast iron and concrete to polyethylene.

FRIALOC open
FRIALOC closed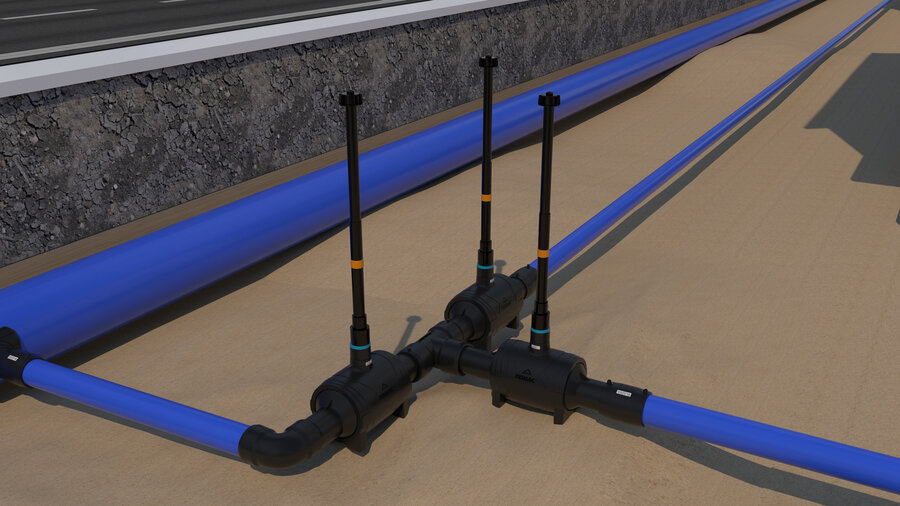 no corrosion and incrustation
innovative two-flap system for safe shut-off under all operating conditions
extremely low-wear
smooth-running even at full differential pressure
only half the weight of a cast iron gate valve
stable stand due to large support surface