The 7th generation – Light, strong, easy
The new FRIAMAT generation meets your needs even better.
We have modernised our tried-and-tested FRIAMAT fusion units to the latest state of the art and made them "fit for the future" in order to simplify your work – in every respect. Starting with the unit's low weight and high performance to easier, simpler operation and documentation.
FRIAMAT basic is our successful basic model, which we have thoroughly revised: flow-optimised active cooling, robust housing, high-quality graphic display, intuitive user interface and much more.
FRIAMAT prime additionally opens up a wealth of digital functions for documentation and extended traceability, made possible by the new Bluetooth interface in combination with the FRIAMAT app. With the optional 1D/2D scanner, the new FRIAMAT is also ready to read and process 2D barcodes according to ISO 12176-5 (Draft).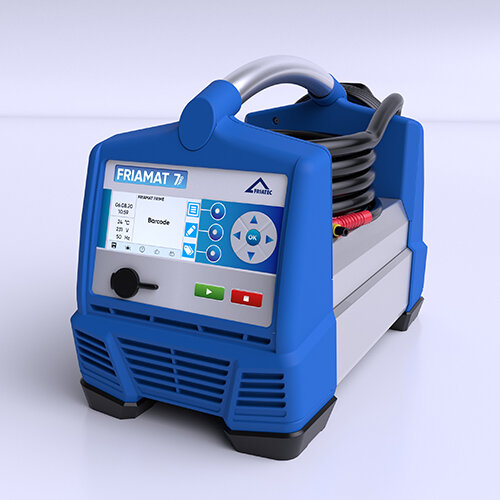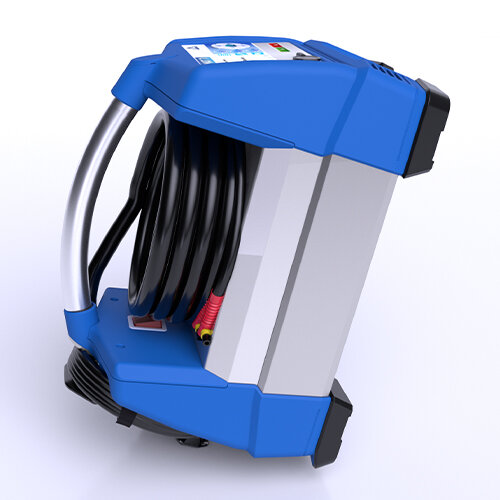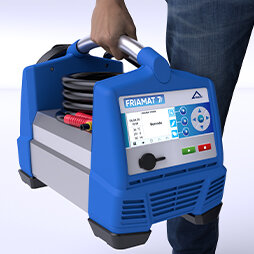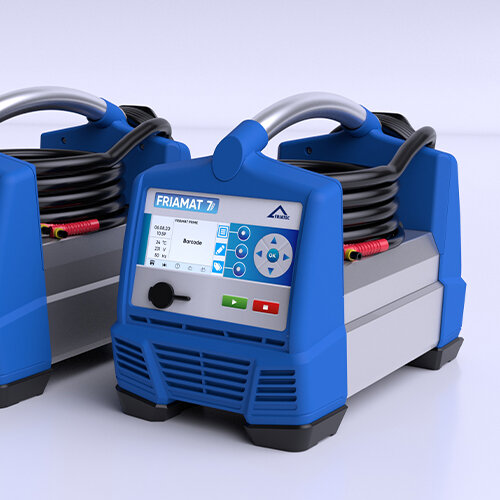 Comfortable

operation

The extremely bright and high contrast display is easy to read, in bright sunshine as well as on dark rainy days.

With the supervisor function, FRIAMAT prime offers a further instrument to simplify and standardise processes on your building sites. You can set up the unit's functions individually and specify certain binding routines for operation.

The reduced weight and longer cables increase mobility on the construction site. Shocks and dirt are also no problem due to the robust housing design.

In the future, software updates can be installed conveniently by the user himself via the USB interface.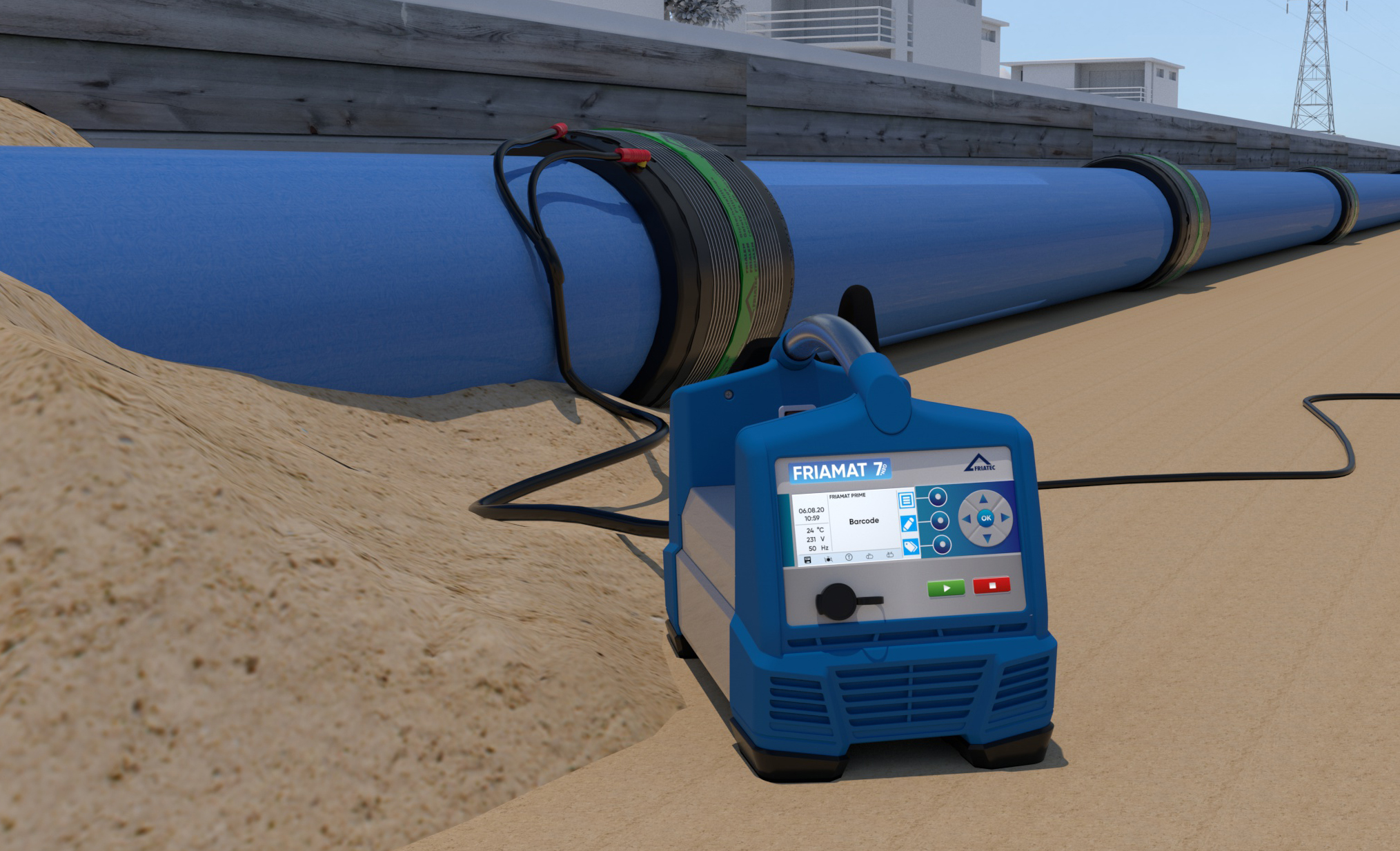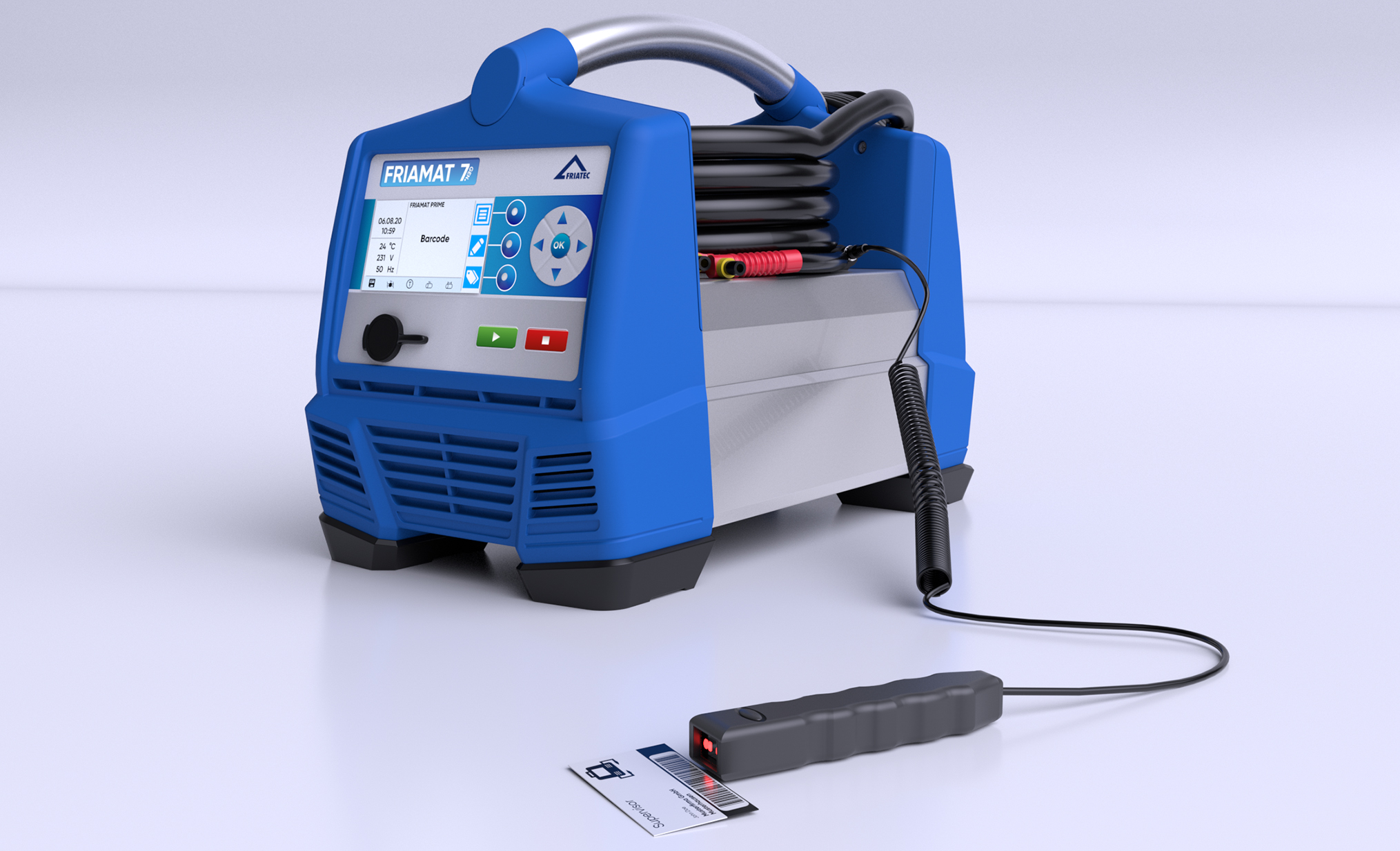 Documentation

made easy

With FRIAMAT prime you can document all relevant information quickly and easily. Whether fusion, traceability or GPS data. Additional data on the building site can also be recorded and stored.

You can enter data using the proven wand, a mini-scanner or manually via a virtual keyboard. With the new, optional 1D/2D barcode scanner, the FRIAMAT is also ready to read 2D barcodes according to ISO 12176-5 (Draft).

With just one scan (one scan fuse), you can capture all information required for fusion including traceability data and extended product information.
We have digitised fusion for you
It has never been easier to document fusion process data and other relevant information. Using the new Bluetooth interface, you pair the FRIAMAT prime with the FRIAMAT app on your smartphone. You can then simply read in fusion and traceability barcodes or control the fusion process easily and comfortably.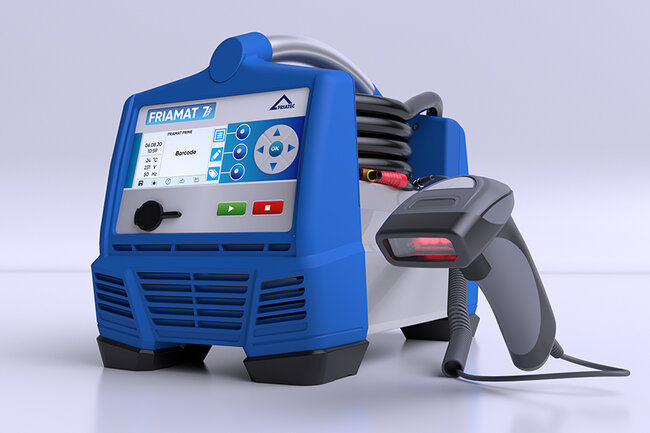 FRIAMAT app – everything under control!
Turn your smartphone into the control centre for everything to do with fusion. Simply connect your FRIAMAT prime unit to the FRIAMAT app via Bluetooth. You can then control the fusion process with your cell phone. The fusion process data is transferred automatically to the app. You can enter barcodes using the integrated barcode scanner.
Additional information such as traceability or GPS data can also be stored and managed. Add photos or comments? No problem any more. The documentation of your work results is easier than ever before. One e-mail suffices to send all data from the building site to the office.
We make your job easier
The FRIAMAT app is available free of charge for iOS and Android. It comes in several languages. No registration is required so that you can start immediately.
Control the FRIAMAT prime fusion process comfortably

Scan barcodes and display all information

Enter process data and add geodata, photos and comments

Mail and comprehensively document work results
FRIAMAT 7 prime and FRIAMAT 7 basic: The right answer to different demands
State-of-the-art converter technology with flow-optimised active cooling
reduces downtimes and process times
Low weight andfuture-proof microcontroller technology
Robust housing design for tough site use
Longer cables increase mobility on the building site
Long-term usability through coordinated equipment service and spare
parts availability
Software updates via USB port and delivery in robust transport box included